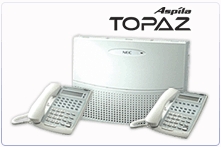 The most cost effective choice for your expanding businesss communication solutions is in the form of our high performance Aspila Topaz series. This series intelligently incorporates all the key features which set the standard in exceeding the needs and expectations of any small to medium sized business immaculately.

With high-performance designs, it sets out to distinguish itself with uniqueness that all smart business desire:
Allows scalability by allowing progression from an initial of 3 trunks and 8 extensions to an impressive 27 trunks and 72 extensions.
Provides fully hybrid ports for the combination of multi types of terminals such as analogue single line telephones (SLT), proprietary keyphones, modems, facsimile, answering machines and more.
Supports the integration of voice and data, through supplementary services from your local service provider (e.g. Euro-ISDN BRI, ISDN DDI/MSN, CLIP and more).
Other noteworthy benefits that set Aspila Topaz exceptional:
Letting you know your caller with Built-in Caller ID Detection and Transmission. Plus easy access to record of last 16 missed calls.
Getting the best rates with Least Cost Routing (LCR) and Automatic Route Selection (ARS) if you have more than o¬ne service provider.
Handling your calls expertly while you are away with up to 48 Voice Response System (VRS) messages for accurate treatment of diverse incoming calls.
Redirecting calls to your choice of telecommunication equipments helps avoid missing important calls.