NEC Philippines makes a difference at Manila Bay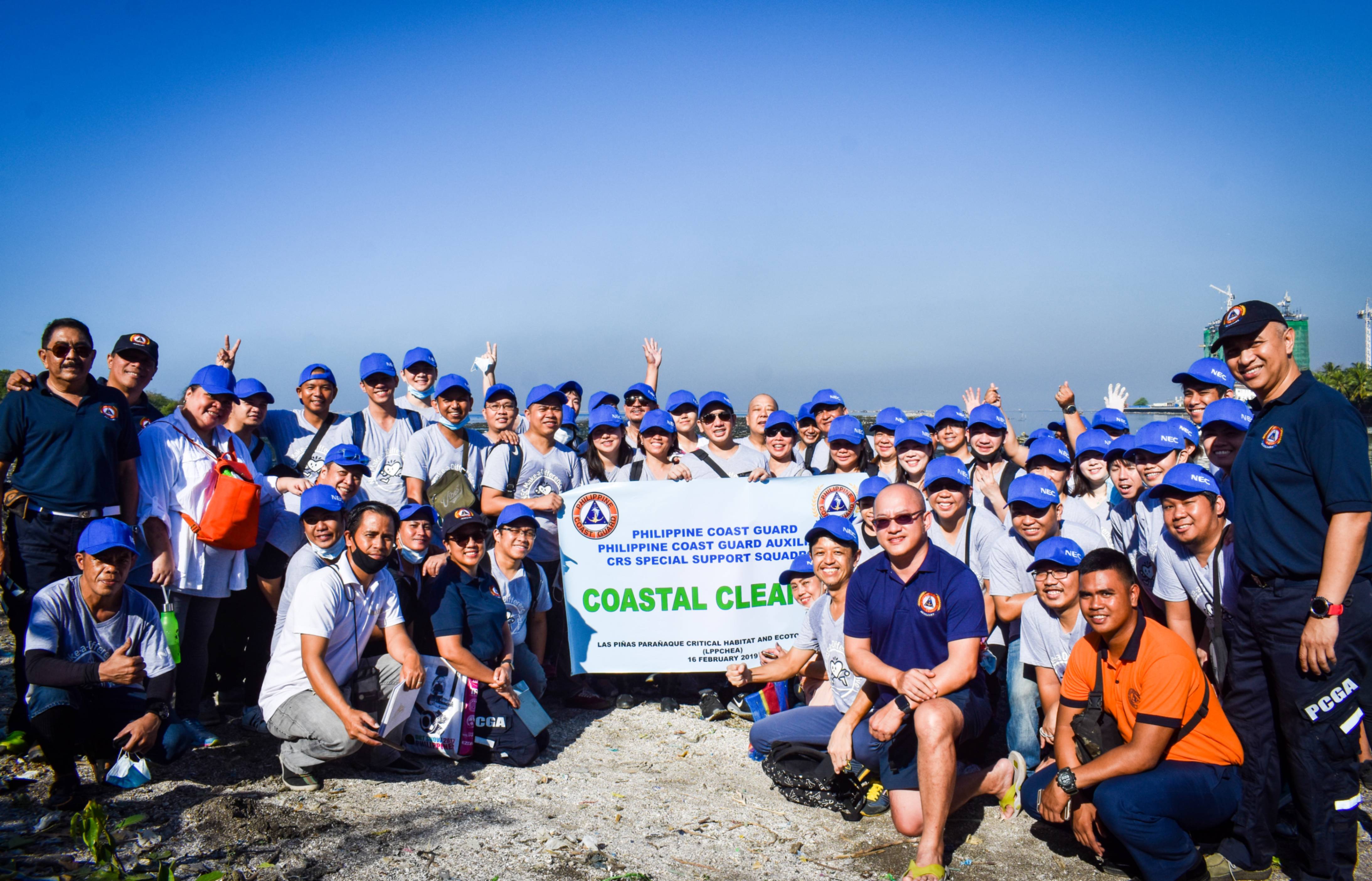 NEC Philippines employees and the Philippine Coast Guard Auxiliary Special Support Squadron posing for a photo before the commencement of the event
Manila, Philippines, 27 February 2019 – The staff at NEC Philippines (NECPH) spent a day collecting data of an entirely different nature on February 16, 2019. They picked samples of trash and identified items found at the Las Piñas-Parañaque Critical Habitat and Ecotourism Area (LPPCHEA), south of Manila Bay. This coastal clean-up was part of NEC's "Make-a-Difference-Drive*" initiative.

Equipped with net bags, gloves, masks and tongs, the NECPH volunteers spent the day sorting and documenting the waste retrieved along the Freedom Island Trail. The Philippine Coast Guard Auxiliary (PCGA) Community Relations Service (CRS) Special Support Squadron, which collaborated with NECPH for this activity, uses the data obtained from the rubbish to deepen their research into the waste that plagues the Bay.

By the end of the activity, more than 20 sacks of trash was collected by NECPH. Marivic Segismundo, Sales Director at NECPH and an officer-volunteer with the PCGA, said, "Protecting the environment is of utmost importance, and more must be done to educate everyone on the impact our consumption habits do to our surroundings."

"Every little gesture counts. Avoiding items that are packed in plastics and bringing your own bags while shopping goes a long way in protecting our environment," she added.

Joining in the coastal clean-up was NECPH Deputy President, Mr. Joji Yamamoto, who brought along his nine year old son to the event. Mr Yamamoto said, "This is our first time conducting a coastal clean-up but is certainly not our last. We at NEC believe in co-creating a sustainable society together with our customers, and will continue to look for ways to make a difference in the local community."

The LPPCHEA is a nature reserve spanning two islands - the Freedom Island and Long Island. It is considered to be an important critical habitat and is host to as many as 41 species of migratory birds in the area, including those from China, Japan, and Siberia. Over 50 NECPH employees, including management leaders from Sales, Pre-Sales, Technical and Engineering Services, Finance and HR, and their family members participated in this activity.


***
*NEC Make-a-Difference Drive (MDD)
http://www.nec.com/en/global/community/social/mdd.html

The NEC MDD started in 1999, coinciding with the 100th anniversary of the establishment of NEC, as an initiative in regional community contribution activities with NEC Group members volunteering under the slogan "Making a Better Difference. Think Globally, Act Locally". The objective of the NEC MDD is to contribute to solving problems in local communities, to foster a sociocentric corporate mentality, and to enhance corporate value by making regional contributions through community activities in various parts of the world.
About NECPH

NEC Philippines was incorporated in January 11, 1996, though prior to this, NEC was already present in the Philippines through its Manila Representative Office since the 1960s. NEC Philippines is primarily a sales, marketing & services company engaged in the supply of telecommunications equipment, computer systems, network, IP and Data Networks, ICT Integration, IT solutions and services, among others. NEC Philippines also recently launched Customer Support Center, its 24x7 support center that not only provides after sales and warranty support, but also offers other services like IT integration, project management and other IT- and networking-related services. Please visit https://ph.nec.com/.

NEC is a registered trademark of NEC Corporation. All Rights Reserved. Other product or service marks mentioned herein are the trademarks of their respective owners. ©2019 NEC Corporation.

PRESS CONTACTS:


NEC Asia Pacific Pte Ltd
Bevan Chen
+65 6379 2756
+65 9615 7590
Inna Isabella Vidallon
+63 2 8773 2600
inna.vidallon@nec.com.ph