As consumers continue to seek digital solutions to adapt to the new normal, NEC is dedicated to supporting you in transforming your businesses to meet the changing demands.
Traditional banking can be inefficient and time consuming, as customers have to be physically present at the banks to open accounts. Moreover, filling in paperwork tend to be error-prone due to human mistakes or illegible handwriting. This results in you having to expand your bank's physical footprint and manpower to cater to the long waiting lines.

Recognizing these challenges, NEC Bank ID solution supports you in your bank's digital transformation journey in the next normal. Fully digital, the onboarding process of clients can be done securely and at the comfort of their homes. Not only is the face used for authentication, the app automatically fills up the lengthy forms for the clients. NEC has the world leading technologies* in facial, fingerprint and iris recognition. On top of these 3 biometrics, NEC has voiceprint recognition capability to fully support your bank's requirements.


NEC Bank ID solution is fully compatible with iOS and Android mobile phones. It is securely equipped with end-to-end encryption and fully integrates with commercial off the shelf databases and hardware.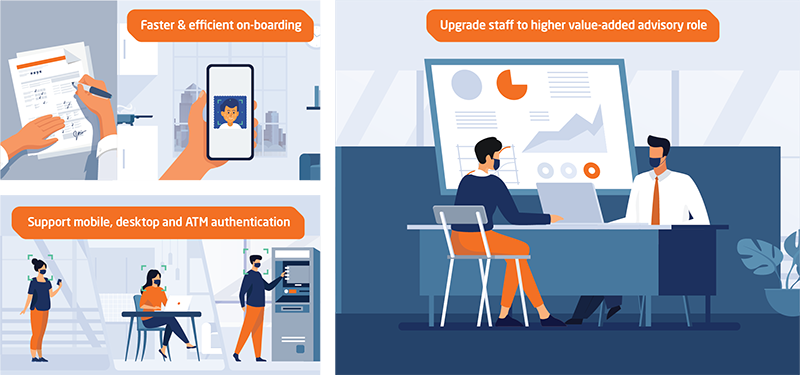 With our vast experience in over 1,000 public and private sectors biometrics-based projects globally, we help your bank rethinks the digital processes across the different channels. With NEC Bank ID solution, the resulting technology supports Mobile, Desktop and ATM Authentication, offers added convenience to users, meets the demand for touchless banking in the next normal. It also enables your bank to lower the cost, optimise the process, and upgrade your staffs to value-added advisory roles.